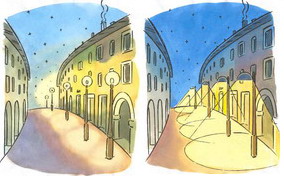 The aim of this catalogue is experimental and without aims of profits. For these reasons the companies adhering to this initiative authorize CieloBuio – freeing it from any possible consequence- to publish their data in its web site. CieloBuio
does not receive any compensation
for this catalogue, that for the said reasons, could not be complete. Anyone interested is invited to cooperate to update this pages:
info@cielobuio.org
 INTRODUCTORY NOTE:
– Fixtures were evaluated only for their very low or absent light emissions at and above the horizon (gamma 90° and above). No valuations was made on their efficiency.
– Please, verify directly with the producer if their fixtures comply with the particular light pollution law you're interested into,
– Manufacturers may change without advice the features and the codes of their products, we advice you to check directly with the manufacturer,
– Published photographs have the only purposes to show the fixtures, so they not always reflect catalogue indications and the correct installation position.
MINIMUM CRITERIA TO BE INCLUDED IN THE CATALOGUE:
1. Fixture and Installation position: lamp completely inserted into the optics; closing glass FLAT, TRANSPARENT and in HORIZONTAL position. For the other fixtures the producer or distributor should to demostrate that the maximum emission over 90° degrees is less to 0.49cd/klm .
2. Lamps: low and high pressure sodium.
Compact fluorescent (residential use); metal halide are allowed only in fixtures and application where other lap types are not available. Metal halide are the most polluting lamps (their light diffuse more in the atmosphere, they are less efficient, decay earlier, have shorter lives and higher maintenance costs), they are allowed only when a white light is indispensable and the efficiency is > 90lm/W but not for street light application,
3. Projectors: Asymmetric type,
4. ESCLUSIONS: Indirect light systems an lanterns.
ITALIAN REGIONAL LAWS CONFORMITY:
The fixtures present on CieloBuio's catalogue are conform to the italian regional laws criteria with a maximum intensity at 90° degrees and above of  0.49cd/klm. Remember that some upward intensity is somewhere allowed only in fixtures equipped with 1500 lm or less lamps. Producer (For the products with not HORIZONTAL FLAT GLASS) adhering to this catalogue gave:
    1.      Eulumdat photometric files of the showed fixtures,
    2.      The declaration of the laboratory that made the photometric measures, certifying the correctness of the given data,

CieloBuio – remembers that:
access and utilize – now and in future – of CieloBuio web site, imply the whole acceptance of these conditions:
ANY INFORMATION IN THIS WEBSITE DOESN'T BLIND TO WARRANTY OBLIGES AND IN NO CASES CIELOBUIO WILL BE DIRECTLY RESPONSIBLE OF THE USE OF THE PUBLISHED MATERIAL, IF NOT OTHERWISE WRITTEN.